Welcome to Freebies Friday! This is the first in a series of posts that I will be releasing every Friday with a list of free fonts, templates, and graphic downloads from around the web. Sign up to automatically get the Freebies Friday list delivered to your email.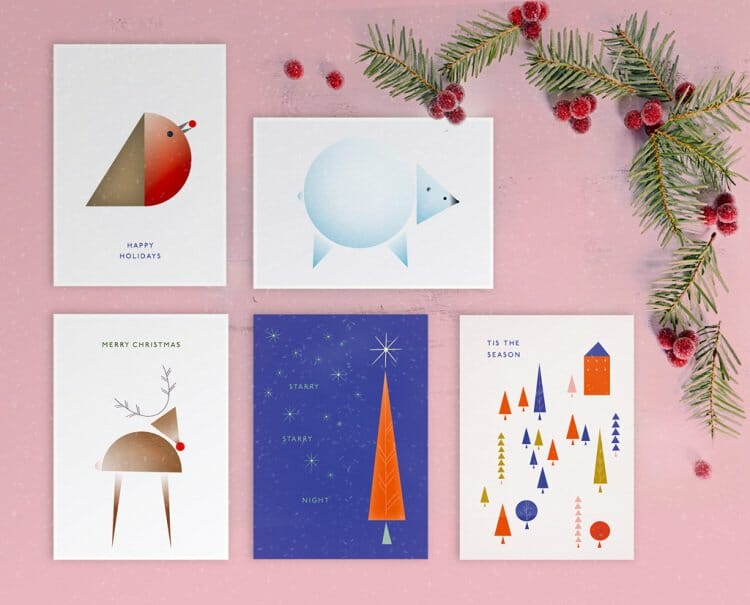 Tis the season. Share festive fun with your friends, family, and colleagues this holiday season with this FREE pack of printable Christmas cards with a mid-century twist from Shutterstock.
The digital files are available as JPEG and EPS, in a range of sizes perfect for sharing to social media platforms. The print templates are available in two sizes — 5 x 7 in. and 4 x 6 in. — as PDF and EPS, with foldable or single sheet card options.
Basyirah Script is a chic hand calligraphy, smooth, modern, classic, calligraphy wavy, which was created to meet the needs of your next design project. Basyirah Script can be used for various purposes such as signatures, logos, quotes, wedding invitations, letterheads, signage, labels, newsletters, posters, badges, etc.
The file contains a full set of lowercase & uppercase, a large range of punctuation, numerals, and multilingual support. The font also contains several ligatures, stylistic alternates, and Stylistic Set, OpenType, or through a panel of glyphs capable software e.g.
Methalia is a delicate, elegant and flowing handwritten font. It has beautiful and well balanced characters and as a result, it matches a wide pool of designs. Methalia features a varying baseline, smooth lines, gorgeous glyphs and stunning alternates. Add it to your most creative ideas and notice how it makes them come alive!
Get this amazing freebie and use it to create outstanding designs with it!
FREE for a limited time!
Betthofen – an adorable handwritten script font manufactured by Bluetype, which support OpenType features and includes, numeral, punctuation, ligatures and it also supports multi-languages. This font is perfect for branding projects, wedding designs, advertisements, product packaging, product designs, label, photography, invitation, quotes and any project spiced up!
FREE for a limited time!
Get notified about the best and latest freebies from around the web delivered right to your inbox.